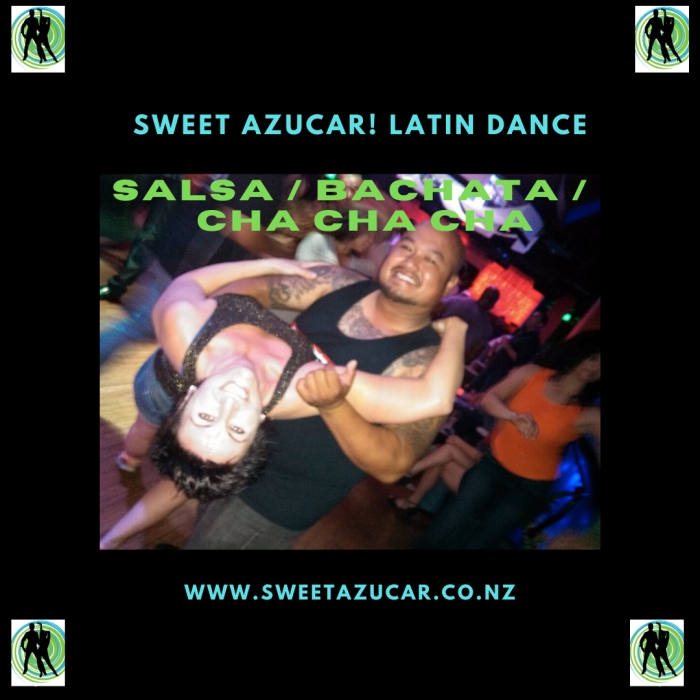 Auckland
Latin Dance Lessons | Adult Dance Lessons,
---
Qualifications:

Multi Award teaching team, and international performers.

Pricing:

$10 p/class unless stated

Suitability:

18 years and up
---
About Sweet Azucar! Latin Dance
WELCOME TO THE NEW LOOK TUESDAYS AT SWEET AZUCAR!

SALSA SALSA SALSA !!!!!

We're now running a fantastic learning/teaching programme that we've experienced at our sister studio, Deseo Studios in San Diego.
The programme has been taught to your Sweet Az instructors by our USA mentors Nery Garcia and Serena Cuevas.

NOW WE BRING IT TO YOU!!!

7pm INTRO TO SALSA. This is all about the absolute basics of salsa. It's a FREE HALF HOUR COURSE of 4 weeks, and must be completed before joining any of our other salsa classes.

7.30pm BEGINNERS. THE MULTILAYER ROOM! One room. 3 areas. 3 levels. 3 graduations. 6 instructors. 4 week syllabus. TOO COOL!! This is going to fast track your salsa learning, for sure.

8.20pm PRACTICA!!! FREE to Sweet Az students. This is for ALL of the Sweet Azucar Family to dance together in a social setting, practicing all that we know. Yes! Beginners, Beyond Basics and Instructors all together. Just the way it should be.

8.40pm BEYOND BASICS. You've completed all of our Beginner levels OR have come from another school and have been assessed by one of our instructors and passed. Congratulations! Now you get to learn more salsa fundamentals, but with more emphasis on creating turn patterns. This is a fun session with LOTS OF LAUGHTER, discussion and discovery. Great for the confidence! Beyond Basics is a 'variable' class, so walk-ins are welcome. The content is a blend of the 'directives' by Nery and Serena, sprinkled in the cheeky flavour of a Sweet Az class environment.

THURSDAYS CHA CHA CHA

Beginners Cha Cha Cha. 'Street Style', NOT Ballroom. There's a difference! – $80 for 8 week syllabus course.

Sweet Azucar! Latin Dance classes are $10 per lesson. We suggest paying for your programme in one bulk payment. So $40 per four week course, but per class is also fine. Our preferred method of payment is online banking, and bank account details can be found below. You are welcome to deposit into our account as you sign in for class, and show Pam. Cash is totally fine too. Lessons are held at the Edmonton School Hall, cnr Edmonton & School Roads, Te Atatu South. Remaining term dates for 2020 are: Term 3 July 21 - September 15 Term 4 October 13 - December 8 We recommend that you wear comfortable clothing and apply some deodorant before class as you'll be dancing with other people and they will appreciate it if you smell nice! You'll also want to bring a towel and a bottle of water as dancing is thirsty work. As for footwear, proper Latin dancing shoes are ideal, but if you can't swing it, or choose not to, that's fine. We recommend not wearing grippy shoes such as running shoes. Liz can also point you in the right direction for mens' Latin dance shoes and ladies' Latin dance heels. But first, let's get you into class and have fun!!!