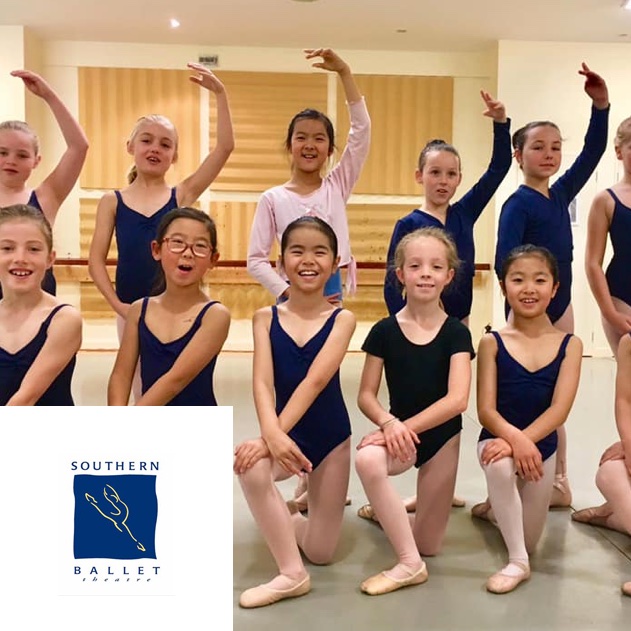 Christchurch
Adult Dance Lessons, Ballet Lessons, Contemporary Dance Lessons, Latin Dance Lessons, Musical Theatre Lessons, Preschool Dance Classes, Tap Dancing Lessons
---
About Southern Ballet
Southern Ballet students aspire to perfection in Classical Ballet technique which forms the core of a young dancer's physical training.
Founded in 1974 by Miss Lorraine Peters, the Southern Ballet School was built up on an outstanding reputation with many students achieving distinction in their careers as dancers, performing in New Zealand and internationally to principal status.
The school is affiliated to the British Ballet Organisation, The Royal Academy of Dance and NZ Academy of Modern Dance all of whom demand a high standard of its teachers and students, and whose training syllabus are committed to the achievement of that standard.
The philosophy of the Southern Ballet School is to train dancers through the enjoyment of learning dance, to inspire confidence in all students, to develop movement and deportment and, above all, to widen the student's imagination and appreciation of music from classical ballet to modern jazz. Discipline and respect for self and others are essential elements in our training philosophy as is the fostering of an active participation in and support of the arts.
With two large studios, one which is converted to a theatre for our school holiday productions with capacity of an audience of 80, a small studio for private or small group lessons, along with wardrobe space, a lounge, café and administration area we are now settled in this new home. Due to demand for extra classes additional space was leased in nearby Hawdon Street. Previously a vehicle restoration workshop the space is now a fully refurbished as our 4th dance studio. Opened for the 4th term of 2013; Studio 4 is now the home of our Modern School.
Southern Ballet offers ballet classes in R.A.D. major syllabus, B.B.O. grade and major syllabus and NZAMD jazz and contemporary syllabuses. Classes begin at Pre-school level (3 years plus) to Advanced level; with special tuition for boys.
A full time Enhanced Training and Performance Course offers specialised tuition for committed students considering a career in dance.
Adult ballet courses are designed to encourage students wishing to return to dancing.
Full Time Professional Training and Theatre Performance Course
A full time course for pre-professional students and those wanting a career in ballet is available daily from 9am. These dancers will be performing regularly in our own Theatre and are taught by fully trained registered professionals. This course includes:
* Rehearsal for Southern Ballet's theatre productions
* Pointe classes
* Male technique classes
* Pas de deux classes
* Jazz
* Contemporary
Classical Ballet
We follow the British Ballet Organisation Syllabus for Classical Ballet. This syllabus allows the students to undertake yearly examinations to measure their progress. Classes begin from age 3 and progress right up to Pre-Professional Level and the Royal Academy of Dance syllabus for major levels.
Jazz
We use the New Zealand Association of Modern Dance American Jazz Syllabus for our jazz classes. This allows for students wishing to undertake examinations, the opportunity to do so. Classes begin from age 6 and continue up to Solo Seal. We also offer open jazz classes for senior students, Elementary above.
 Contemporary
We offer a Contemporary Levels, Preparatory to 6, which is taught by Hayley Watts. The class format focuses on technique, musicality and strength.
Adult Ballet Open Classes
These classes are taught by Glen Harris, a former professional dancer. This class focuses on fun, flexibility and fitness with the love of dance and ballet thrown in.
Pre-school Ballet Classes
Southern Ballet offers Pre-School Ballet classes for 3 – 4 years of age and Beginners Ballet Classes for 4 – 5 years of age.      At our studios, 108 Carlyle Street, Sydenham.
Please contact our Office Manager if you would like to enrol, Phone 03 379-7219
Pilates Classes
Pilates is a low impact, total body method of exercise. It is a balanced blend of strength and flexibility exercises with a focus on strengthening the core (abdominal, back and pelvic floor muscles). Quality rather than quantity is the focus, using breathing techniques, precision of movement and concentration to enable the body to work more efficiently in sports, activities and daily life. Mondays 1.30 – 2.30pm, Tutor Antoinette McKay.
Competition Dancer Tuition on request
Pointe Classes
Junior, Intermediate and Senior Ballet Companies
Junior, Intermediate and Senior Jazz Companies
Conditioning & Stretching