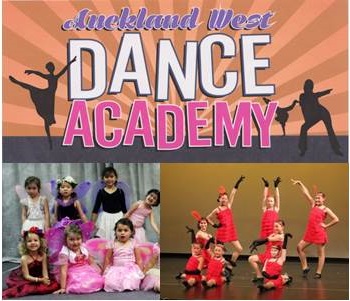 Auckland
Ballet Lessons, Contemporary Dance Lessons, Hip Hop Dance Lessons, Jazz Dance Lessons, Lyrical Dance Lessons, Modern Dance Lessons, Preschool Dance Classes, Tap Dancing Lessons
---
Qualifications:

Principal's Qualifications: Certficate IV in Dance Teaching & Business Management, RAD RTS, JDNZ Dance Educator, BAL Ballet Teaching Certificate, BAL Advanced Tap Teaching Certificate, NZAMD Registered Teacher, ANZAMD SPD (Solo Performance Diploma), JDNZ Registered Teacher, JDNZ Advanced Jazz (Hons with Distinction), BAL Registered Teacher, BAL Ballet, Jazz & Tap Advanced

Pricing:

All classes - first lesson free to trial. Pre school - $30 for a 5 lesson concession card which is valid for 3 months. Classes per term: 30 minute $85, 45 minute $110, 60 minute $125, 75 minute $140, unlimited classes $600. 10% discount for 2 or more classes per week. $5 prompt payment discount first week of term.

Suitability:

2 years to adult
---
About Auckland West Dance Academy
Auckland West Dance Academy is a Glen Eden dance school established over 45 years ago providing high quality dance tuition by qualified teachers. Kym Vickery is the Principal of the studio with 10 other fantastic teachers on the teaching staff. Dance classes are taught in a warm and friendly environment. Students have the opportunity to perform onstage in the annual dance concert and enter into examinations, assessments or medal tests.
Dance styles taught are Jazz, Ballet, Hip Hop, Lyrical, Contemporary, Tap as well as Body Conditioning, Technical classes, Stretch Leap & Spin, competition dancing and private lessons are also available.
We offer classes for pre-schoolers, girls, boys, teenagers and adults. Class numbers are restricted to ensure that each student can get the individual attention that they require.
All teachers are fully qualified and depending on genre taught are members of RAD, JDNZ, NZAMD, RBM and/or BAL.
We invite you to come and view our classes, or to phone/email us with enquiries about joining a class. Please feel free to browse through our website, Facebook or Instagram pages.
Timetable for Term 2 2019
MONDAY
3:45 Pre Primary Ballet 3:30 Junior Jazz 4:00 Little Dancers
4:30 Pre Major Jazz 4:15 Grade 4 Jazz 4:30 Grade 3 Ballet to 5:15
5:45 RAD Grade 2 Ballet
to 6:30 5:15 Advanced Gold Lyrical 6:00 Senior Gold Lyrical to 6:45
6:45 Stretch Leap & Spin 6:00 Senior Gold Lyrical
7:30 Troupes 6:45 Senior Open Class to 7:30 7:30 Troupe
TUESDAY
3:45 Grade 3 Ballet Pre School 9:30 & 10:00 (Fairy Feet) 3:30 Dance Stars
4:30 Grade 4 Jazz 4:45 RAD Grade 2 Ballet to 5:30 4:00 Primary Ballet
5:30 Grade 6 Jazz 6:30 Elementary Ballet 4:45 Grade 1 Ballet
6:45 Int Foundation 7:45 BAL Grade 5 Jazz to 9:00 5:30 RAD Intermediate Ballet
7:45 Advanced Ballet to 9:00 6:45 Grade 5 Ballet to 7:45
WEDNESDAY
4:00 Grade 2 Jazz 4:00 New School Beginners Hip Hop 3:30 Grade 1 Jazz
4:45 Elementary Ballet 4:30 RBM Level 1 Hip Hop to 5:00 4:15 Grade 3 Jazz
6:00 Grade 4 Ballet 5:30 RBM Level 3 Hip Hop 5:00 Grade 6 Jazz
6:45 Int Foundation 6:15 RBM Level 5 Hip Hop 6:15 Intermediate 1 Jazz
7:45 Advanced Ballet 7:00 RBM Level 9 Hip Hop 7:15 Grade 5 Jazz
9:00 Stretch Leap & Spin 8:00 RBM Level 8 Hip Hop to 9:00 8:15
THURSDAY
3:45 Grade 1 Jazz 5:00 Int Foundation 3:45 Pre Grade Jazz
4:30 Grade 3 Jazz 6:00 BAL Grade 2 Jazz 4:30 Grade 2 Jazz
5:30 Advanced Jazz 6:45 Grade 5 Ballet 5:15
6:45 BAL Advanced Jazz 7:45 6:45 Pre Major Jazz to 8:00
8:00 RAD Int Ballet 9:15
FRIDAY
5:00 RBM Level 8 Hip Hop 3:30 Pre School (Funky Steps) 3:30 Lyrical Open Class u12
6:00 RBM Level 5 Hip Hop 4:30 Technique Class 4:00 Contemporary Level 3
6:45 5:30 5:00 Senior Bronze Lyrical
5:45 Contemporary Level 6
6:45 Contemporary Level 5
7:45 Major Jazz to 9:00
SATURDAY
9:00 Pre School (Funky Steps) 9:00 Grade 5 Jazz 8:45 Grade 3 Jazz
9:30 Dance Stars to 10:00 10:15 Grade 1 Jazz 9:45 Pre Grade Jazz
10:30 Pre School (Fairy Feet) 11:00 Little Dancers 10:30 Grade 1 Jazz
11:00 Mini Movers (4 yr olds) 11:30 Little Dancers 11:15 Grade 4 Ballet
11:30 Dance Stars to 12:00 12:00 12:00 Junior Jazz
2:15 Grade 4 Tap 12:45 Troupe / Body Conditioning
3:00 Intermediate Tap 2:30 Primary Tap
4:00 Tap 'n Beats L8 (to 5:00) 3:00 Grade 2 Tap to 3:45