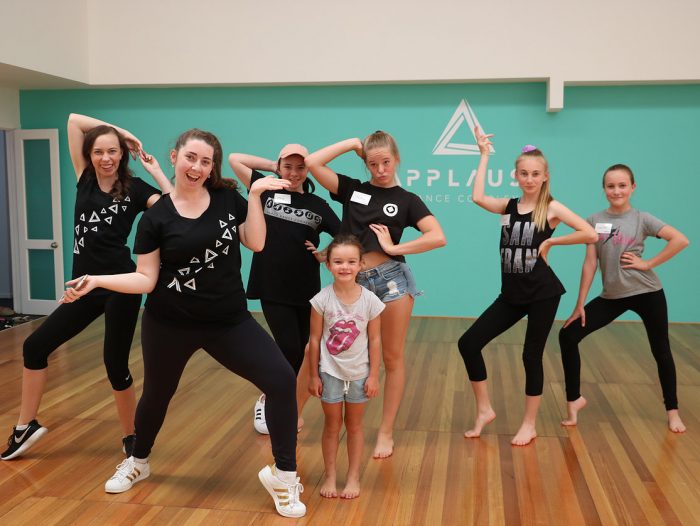 Auckland
Ballet Lessons, Contemporary Dance Lessons, Hip Hop Dance Lessons, Jazz Dance Lessons, Lyrical Dance Lessons, Modern Dance Lessons, Preschool Dance Classes, Tap Dancing Lessons
---
About Applause Dance Complex
Applause Dance Complex, formally known as ABH Dance was established in 1979 By Annette Brownlee Hooper. A former dancer herself, Annette has always had the natural flair of working with children and from a very young age, aspired to teach children to dance. Originally just a ballet school, Applause Dance has evolved into a dance school that provides top technical training in 9 different styles of dance.
Here at Applause, we are dedicated to providing professional technical training in a positive environment that focuses on the life skills of responsibility, punctuality, dependability and teamwork.
Our new studio complex offers the best facilities in NZ with air conditioning, sprung floors, barres, mirrors, upstairs viewing/waiting areas and free wifi.
Enquire about classes for your future dancer today!
Tiny Dancers
At Applause Dance Complex, we offer themed classes for dancers aged 18mths-5yrs. Our experience has proven that young children learn best through imaginative play. As your child twirls around in a fairytale land or explores the depths of the ocean, they are learning to solve problems, cooperate, think flexibly and of course dance!
Our Tiny Dancers curriculum offers four levels to progress through before graduating to our main school. Scroll down to learn more about each level, class times, fees, uniform, optional exam presentations and fun performances.
PRINCESS ACADEMY
18mths-3yrs
ENCHANTED ACADEMY
2.5-3yrs
MERMAID ACADEMY
4 year olds
DANCE STAR ACADEMY
5 year olds
Dance Classes
At Applause Dance Complex, we offer an extensive range of dance classes and styles. With great syllabus work, fun teachers and an encouraging atmosphere, we are sure you will find the perfect class for your dancer! Scroll down to learn more about each style.
Jazz
A fun, structured class studying the JDNZ examination syllabus.
Learn the basics of dance with routines and exercises that students enjoy!
Ages 6 – Advanced
Ballet
A tradtional ballet class studying BAL examination syllabus. Dancers develop ballet technique, poise and strength.
Ages 5 – Advanced
Hip Hop
A fun class studying the brand new RBM examination syllabus. This relaxed, fun style of dance is taught through various exercises, routines and dances.
Ages 6 – Advanced
Tap
Open classes which introduces dancers to Tap through various exercises, routines and dances. Tap is a great form of dance to enhance rhythm and style.
Ages 6 – Advanced
Lyrical
Open style class. Lyrical compliments any dancer making use of fluidity and innovative movements.
Ages 6 – Advanced
Contemporary
Contemporary teaches students to understand the concepts of contemporary movement such as weight, flow, momentum, and the use of gravity.
Ages 10yrs +
Stretch
Flexibility is key to creating a well rounded dancer.
Stretch class is an open class which focuses on flexibility, fitness, technique and strength.
Ages 6 – Advanced
Ballet Technique
A pilates style class following the Progressing Ballet Technique syllabus. Focusing on posture, turnout, arms and correct alignment.
Ages 8 – Advanced
Dance Acro
For students wanting to add extra pizazz to their dancing. Learn cartwheels, walkovers, aerials, back handsprings & more following the Acrobatic Arts syllabus.
Ages 7 – Advanced
Aerial Circus
West Auckland's first ever aerial circus classes, taught by the highly qualified Jodi Russell!
Aerial Circus develops a basic foundation in all aerial apparatus. This includes movement technique, body awareness, and basic performance work. Predominantly aerial silk classes, these sessions move through material and endurance training all students should find that they are able to create a short performance.
More often than not, kids have great strength to bodyweight ratio. The key is to keep them safe, and teach them proper technique so they don't get ahead of themselves with their own bravery! We work together to make sure all kids retain the terminology, technique, and safety instruction. This enables us to cater for the different rates of learning present in any class environment.
We offer classes for teens and adults, 1 class per week, 60-90mins.